My daughter lives in Hawaii, and though they have more varieties of tropical fruit there than most of us even knew existed, there is nary an apple to be found. This year, she felt the fall-call urging her to head back to the Catskills for a seasonal dose of apples, pumpkin-spice, cozy sweaters and changing leaves. Her boyfriend, a native of Portland, OR, had never been to the North-East for fall before, so he decided to tag along to see what all the hubbub was about.
Their first day in town, we went on a hike in our local North-South Lake State Park to the North Point overlook.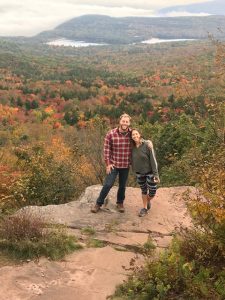 As we took in the views, I pulled out some apples for us to snack on. I'd purchased these apples a couple days prior- an amazing deal of 20 apples for $3.99! Well friends, I suppose you get what you pay for, because they were everything you fear in an apple- rubbery skin covering a mealy, flavorless fruit… these were not the apples my daughter had flown nearly 5000 miles for!
The next day my daughter and her boyfriend decided to take matters into their own hands. They borrowed the truck and headed down the mountain to the town of Claverack, just outside Hudson, where they followed the road-side signs along Route 9-H, guiding the way to a U-Pick apple orchard. This was Philip Orchards, a large property with a beautiful, old, yellow house and several large orchards.
The proprietor sat outside a barn at a small table piled with different varieties of apples. He explained that they were a strictly U-Pick Farm (because, "When you pick your own, you pick the best!") and asked them what type of apples they were looking for. They replied that they were un-informed but open-minded, and he gave a brief spiel about the different qualities of the various apples, expressing exasperation at the HoneyCrisp craze and putting in a strong word for the Red Delicious. "They've fallen out of favor," he said, "but the Red Delicious are excellent as long as you eat them within a couple days of picking." He gave them a map, highlighting which areas of the orchard had which apple varieties, and turned them loose with an invitation to "taste anything you want!"
It was the type of autumn day we all dream of- blue skies and sunshine but cool enough for jeans and a light sweater. The kids tasted their way through the orchard (Jonathan and Golden Delicious were their favorites), marveling at the fruit-laden trees and filling their bag to the brim. These were the apples of autumnal memories past, and as with many things in life, they tasted all the sweeter because they had picked them themselves.